REQUEST A QUOTE
DIMENSIONAL & ILLUMINATED SIGNS
We are very mobile, any where you need us we are there
REQUEST A QUOTE
FOR OVER 20 YEARS
We have been serving the biggest brands in town
REQUEST A QUOTE
NOTHING IS TOO HARD FOR US!
No matter the height, we can fix it
REQUEST A QUOTE
OUT DOOR BRANDING
Thou shall impress them as they enter and as they leave.

REQUEST A QUOTE
PLATE SIGNS
Directional & outdoor signs save your visitors much time when locating you
REQUEST A QUOTE
WE ALWAYS KEEP IT ORIGINAL
High profile customers trust us with their prolific projects
We are a team of professional civil & building engineers and technicians who are best known for modern signage manufacturing, building construction, professional finishes and other related engineering works like; fabrication and material machining like: Timber, metals, PVC and composite materials.
Standard Signs Contractors Ltd has all along been supplying their products and providing services to different categories of clients within the eastern and central African region; serving a wide range of clientele for over 20 years. Our clientele list includes most corporate institutions like; banks, hospitals, schools, factories, government institutions and many more.
No matter the volume and the complexity ofthe job, we have the expertise, equipment and capacity to handle
With adequate equipment and modern technologies, we are able to manage your entire  promotional campaign, building engineering needs and push you to the next level.
For you to achieve the benefit of visibility from your brand display, you need to consult the experts to advise you professionally and recommend for you an appropriate system/design that can enhance your brand image . Standard Signs Contractors Ltd has a long time experience and a high level of creativity that suits most kinds of production and services that require special handling.
We meet our client's needs
Just visualise it and we shall produce it.
Sometimes a simple cost effective advert you may need is a well  branded item used on a daily basis within your business premises. This symbolises corporate branding; able to advertise your business effectively.

Commitment to quality
Since inception 20 years ago, Standard Signs Contractors has maintained high standards. We ensure that our final products are produced with a touch of class.

Customer Centric
What separates us from the rest that makes us the industry leader is our desire to satisfy and ensure our customers are happy.
Innovation and cost cutting during production is part of our job description that gives us a platform to continually innovate and improve our processes to ensure affordability.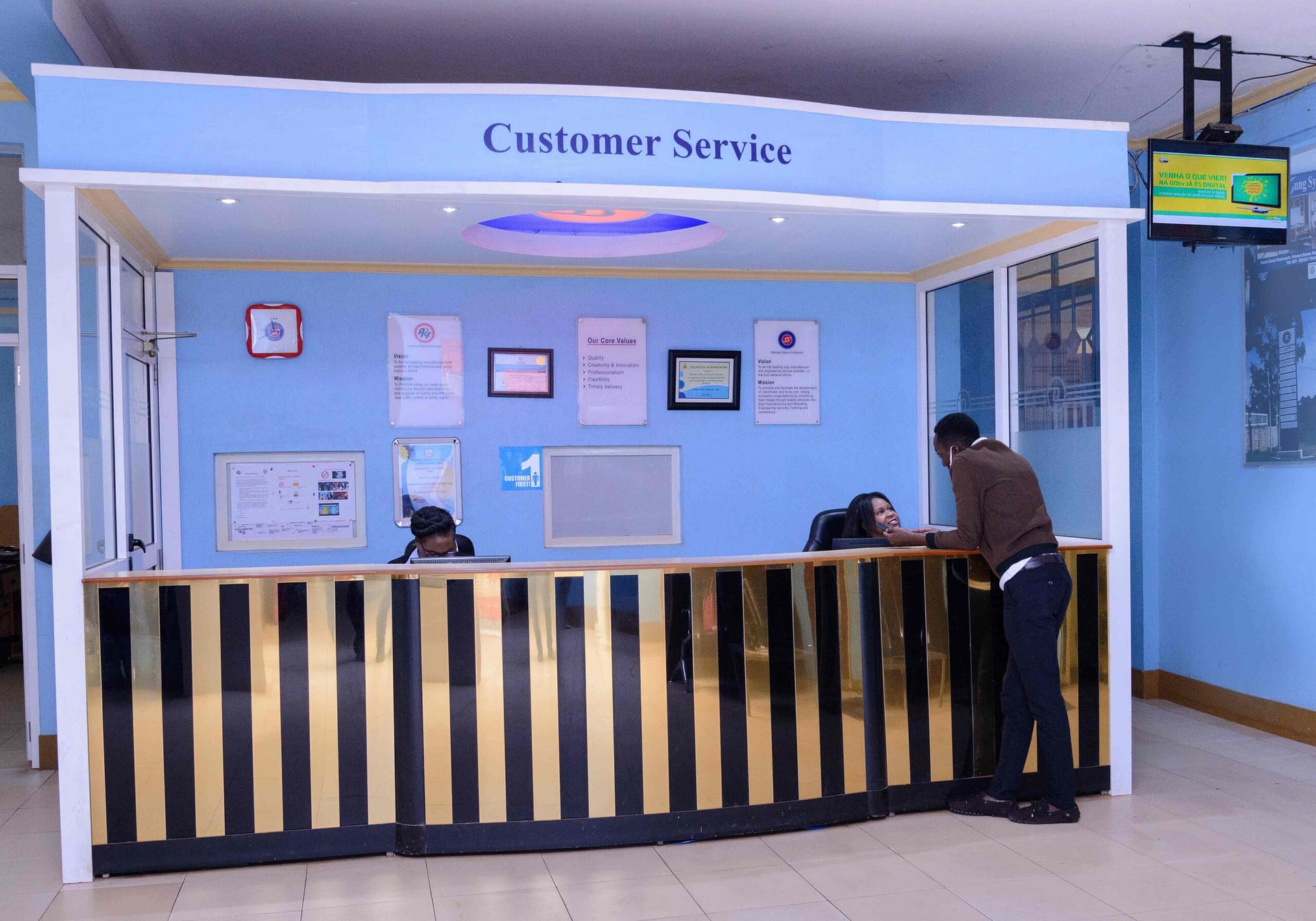 Watch our short video
Welcome to our fab-lane
Request a quote
We have fully dedicated engineers and technicians ready to innovate and create new designs for you.
Our services & Products

Display Units
For you to achieve a maximum benefit from your product display, you need to consult the experts to advise and recommend for you a convenient system and design in order for you to maximise your sales. Standard Signs Contractors Ltd has a high level of creativity that suits all kinds of products that require display.

Plaques, Awards, Sovenirs & Labels
We can help you to recognise and appreciate the effort of others with our memorable gifts, plaques and awards. Our quality products and services provided to our clients are archived as a result of team motivation.

Dimensional Signs
Show the capacity and credibility of your business by using our unique dimensional signs that will attract more customers.

Machinery and Material Machining
We use modern computer aided equipment and power tools for processing and machining
assorted materials. These includes:- Sheet cutting machines, Bending machines, compound saws
cross-cutting machines, timber machines and more. All these are in place under one roof to ensure
full control during production and better quality products and services at competitive market prices.

Fabrication and Building Construction
Maintenance and installation of Digital Signage for fuel stations and supermarkets.

Customized Furniture for Offices, Institutions and Business premises
Looking for good office accessories, branding and space planning for your office?
We do it from designing, manufacture, fitting/installation and commissioning. This is part of corporate branding.We only handover when its fully ready for use.

Directional Signs
Businesses and offices with incredible directional signs miss more than 70% of their customers since it is not always easy to maneuver locations without proper directions. We are happy to inform you that a big number of successful businesses, Corporate brands, government institutions and NGO's trusted us with this task of making and installing their directional signs to ensure visibility and guidance for their location.

Premise Branding
With accurate and architectural planning,  our branding techniques and outcomes need no comparison. Take a chance and use our branding team so that you experience how effective our branding techniques will work for your business

Pylons
They are very helpful in multi-storied or multiple office arrangements where each office can be catered for on a   single pylon placed outside the building.
More so, they can also explicitly bring out your brand on a stand alone structure for easy visibility.

Sample Completion Reports
For every work we do begins with a sample, followed by the actual product and its installation and finally a report of what we did. For all our customers, we ensure that your satisfaction is our top priority.

Show Room
In our show room, awaiting you is a sample of everything we do. From plate signs, pylons, labels, souvenirs, digital prints and some of our most honorable customers is a sneak peak of what you will find in our show room in Kireka, kasokoso road.

Vehicle Branding
Do you know the trick with vehicle branding? Its simple, you get free marketing for your business everywhere your vehicle goes. When you do it with standard signs, our quality delivery pushes you a notch higher.

Office Furniture & Space Partitioning
Looking for good office accessories, branding and space planning for your office? We do that too. From sourcing, installation and commissioning, we handover when its fully ready for use .
Some of our customers